About the Directors
Matt Bauer and Eric Hagenow grew up in Sebewaing, Michigan together where they were classmates and teammates at Immanuel Lutheran School (now Christ the King Lutheran School). They both attended Valley Lutheran High School in Saginaw, Michigan and played varsity basketball for the Chargers. After their high school days, they continued their education and playing careers at Concordia University in Ann Arbor, Michigan. Matt and Eric also have the distinction of being brothers-in-law since they married sisters. Below is a little more about them.​

Matt Bauer


Coach Bauer is currently teaching at Hemlock High School where he has been since 1997. He is also the varsity basketball coach. As the varsity basketball coach, Matt has had some successful teams go through his program which is evident as he claimed his 200th victory in December 2014. He has captured seven district titles as well as six conference titles. Coach Bauer has watched several of his top players continue their careers in the college ranks. In 2014, Coach Bauer was named Coach of the Year by the Saginaw News. On February 21, 2018, he won his 250th game over his alma mater, Valley Lutheran High School.

Eric Hagenow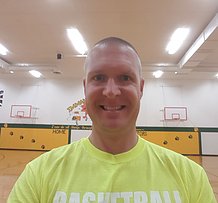 Coach Hagenow is the principal and athletic director at St. Peter Lutheran School in Hemlock. He has been there since 1996 as a teacher, athletic director, and basketball coach. He continues to coach all different age groups at St. Peter including starting a 2nd-4th grade intramural league in 2018. Some of his top players have gone on to play on the varsity team at Hemlock High School for Coach Bauer. Both of his children played varsity basketball at Valley Lutheran High School in Saginaw, MI, and his son, Brady, will start to run some of the camps beginning in 2019. In 2017, he was named Hemlock Business Association's Member of the Year for his community involvement and support.

Counselors from 2017 camps:


S.K.I.L.L.S. Basketball Camps also employ area high school and college athletes, some of who have been previous campers. If you would like to work at S.K.I.L.L.S., click on the Work at Skills link at the top of the page.

Here are four of our counselors from 2017 (all of which were once campers). They competed in the 2017 Midland Gus Macker where Gabe Robinson was crowned the Papa John's 3 Point Champion. He received a cash prize and pizza for a year!